April 2023 | Written by Maribeth Griessel
     These verses, and others included in Romans 10:8-17, provided the cornerstone for Saturday Send, an afternoon program organized and led by Caleb Mason, Director of Student Ministries & Missions, at Gashland on Saturday, March 4th.
      Attendee Nancy Williams commented, "Saturday Send was a great opportunity to become better acquainted with some of the missionaries GEPC supports, to learn more abut the countries they serve and the ministry opportunities they are involved in." The program began with a worship service in the sanctuary in which Ellie McGinty led in congregational singing.  One of the songs was "He Reigns," with its first verse providing the crux of Saturday Send:
     It's the song of the redeemed 
     rising from the African plain
     It's the song of the forgiven 
     drowning out the Amazon rain
     The song of Asian believers 
     filled with God's holy fire
     It's every tribe, every tongue, 
     every nation,       
     a love song born of a grateful choir
      Caleb brought a mission-based message, explaining that there are 8 billion people in the world, of which 40% (that's 3.2 billion!!) are unreached by the gospel, and then offered 7 ways to reach the lost:
      1.  Meditate on the Word of God
      2.  Spread the gospel here in Kansas  
      City; there are nations in our own backyards
      3.  Pray specifically for the unreached; prayer is  
      not simply a formality
      4.  Give sacrificially, as little or as much as God 
      has given
      5.  Go to other countries where the gospel is not 
      shared
      6.  Read biographies of missionaries, from the 
      apostle Paul to modern day
      7.  Hold loosely to your life, it is not yours; be  
      willing to go wherever God wants you to go
      While obviously not every Christian believer can fulfill all seven of these methods of reaching the lost, each person can help in whatever ways are possible.
      Following the service, everyone moved down
stairs to Fellowship Hall to be served the first of many samples of food and beverages from countries in which Gashland supports missionaries.  Harley Schull offered good descriptions of some of the refreshments, "The Kenyan food was delicious with nice music to go along with it." (Choice of beef or chicken with rice and vegetables) "The Philippines station offered juice and a quick history of missions there."  (Mango nectar)   "The Lebanon room had baklava and the sweet news that many in the Arab world were having Jesus dreams and converting that way."  Additional tastes included popcorn in The Jesus Film room, a strong hibiscus tea from Africa, biscuits (we call them cookies!) from London, a fruit drink from Haiti, and a sweet ending of strawberry gelato from Italy.
       Cindy Harris expressed, "We appreciated learning of the missionaries GEPC supports as a whole, giving us a more global perspective.  It felt good to become more personally connected with some of them through various means, and to hear about specific challenges that they are facing."  
Areas throughout the world & missionaries that Gashland 
supports:
      Kenya – Robert Mulumbi                                           
      Philippines – PGA Linda Belugo
      Lebanon – Mook Family (World Outreach)               
      Haiti – Haiti Christian Mission
      Egypt/Northern Africa – Boaz & Ruth Glad; Kameel & Rachel Kilada   
      England – Matt Creacy
      Jesus Film Project – David & Sarah Kennedy           
      Italy – Francesco & Claudia Arco
       Attendees were given a Passport booklet containing blank pages that could be filled with information. Each location offered stickers of that country's flag, perhaps a stamp and other information. Bill Pearce appreciated the missions-focused afternoon, "It was very well done.  Thanks to Caleb Mason and others, we had our horizons expanded about the people and places GEPC supports.  Let's do it again sometime!"  And his wife, Binny, added, "Not only did we become acquainted with the work our supported missionaries are doing around the world as we went from station to station tasting the foods of that nation, we also learned how we must all be missionaries if we will obey God's call."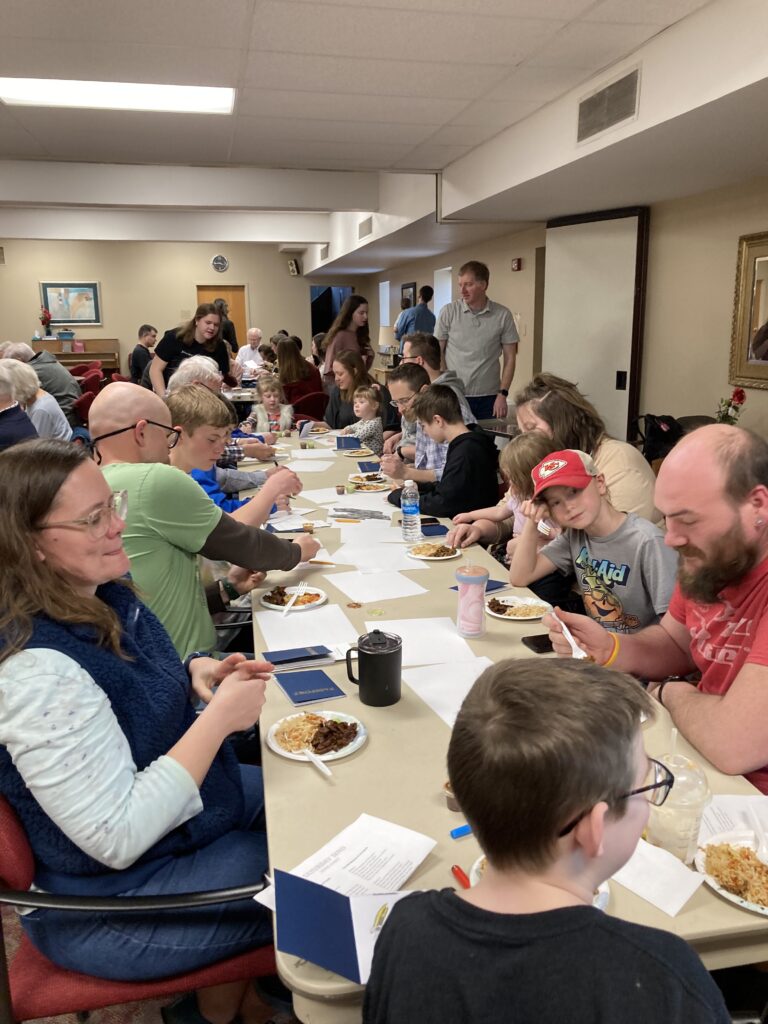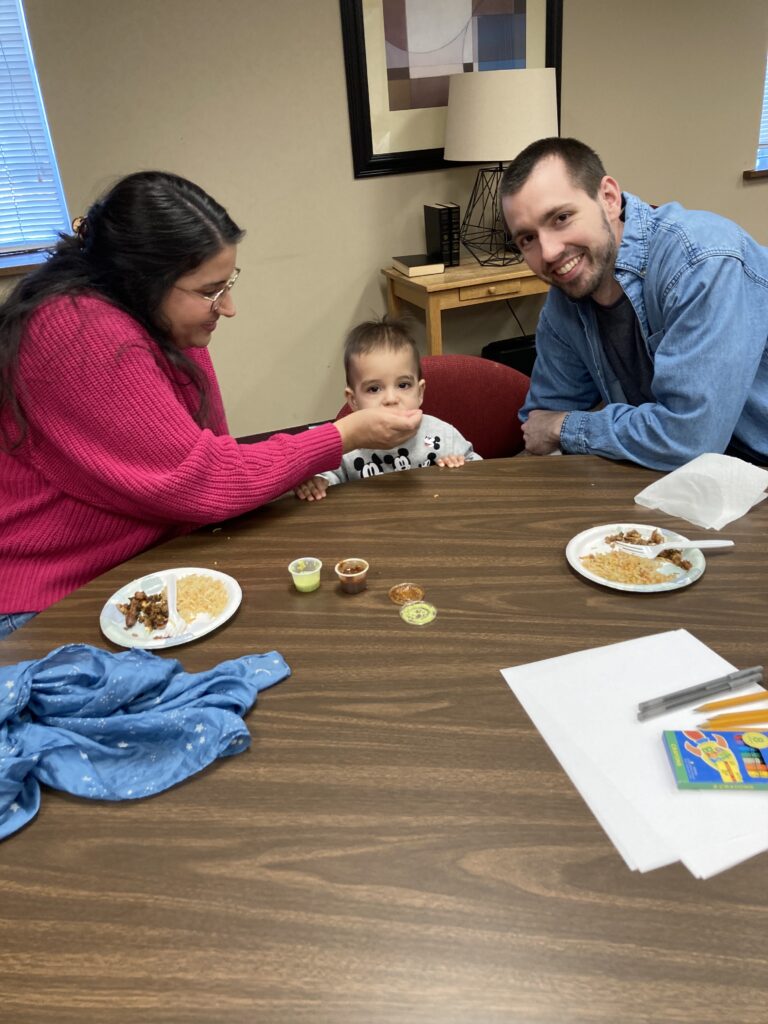 Sophie Cable, along with Dad, Ritchey, helped serve the first course from Kenya.  She commented, "I really liked learning all about the different countries, hearing the different stories they shared, and trying some of their food.  I think the missionary at the London station was really interesting and I enjoyed hearing his story."  Sue Donalson joined the consensus of opinion that Saturday Send was extremely well planned, "I enjoyed learning some things about our missionaries I didn't know, the treats and the time of fellowship with others from our church family that I don't always see."  Erika McCoy appreciated "getting to learn how God is working in the missionaries we support and how we can better support them while they are serving our Lord."
      Another song Ellie led in singing for the opening service was entitled, "Father, Let Your Kingdom Come," and aptly included the lyrics:
       May the works of my hands bring You joy.
       May the words of my mouth speak Your peace.
       You make all things new,
       in places we don't choose,
       You make all things new.
       Hallelu, Hallelujah! 
       Father, let Your kingdom come.
     Lest we give the impression that everything served to represent food from the countries where we support mission fields was unanimously approved, we must 
present another opinion as well. Three year old Violet Stewart, when asked by her mother, Madison, for feedback about what they had experienced, responded, "Well, Momma, God loves all kinds of different people very much.  But He does NOT like all of their food!"  However, Madison added, "Weirdly enough, Violet actually enjoyed all the food offered, so I have no idea where her statement came from!  Saturday proved to be a fantastic opportunity to further connect our girls to their Compassion International kiddo, who lives in Africa."
       We must close on a complimentary note (as well as perhaps a bit of a play on words).  Harley Schull concludes with, "The afternoon was well thought out and certainly gave us the flavor of the gospel with a taste for missions."