March 2022 | Written by Maribeth Griessel
      2022 will be a year of special commemorations for a certain person in our church. August will bring a silver wedding anniversary celebration, and September will mark ten years of attendance at Gashland. To begin with the latter, shortly after Pastor Ritchey Cable began his ministry here, in September, 2012, the Adams family was seeking a church in close proximity to their home. Upon attending services they realized their oldest child recognized several kids from his school. Pleased with the excellent Bible-based preaching and teaching, Rachael and Eric Adams united with GEPC. One year later, in August of 2013, Mrs. Adams accepted the position of Director of Children's Ministries.  
     Having been born in Overland Park, KS, Rachael grew up in Johnson County and graduated from Shawnee Mission West High School. From there, she continued her education at Northeastern State University in Tahlequah, Oklahoma, earning a bachelor's degree in Meetings and Destination Management. Her first employment was as a meetings and convention planner. This type of work enabled her to pursue one of her favorite activities, as it involved a great deal of travel.
    Rachael's mother and step-father, both retired, live in Overland Park. Her father and step-mother, also retirees, recently moved to the Northland after having resided in Colorado for ten years. She has a half sister, 8 years her senior, and a half brother who is 14 years younger.
    While attending what was then Southwest Bible Church (now it is Mission Road Bible Church), she met her future husband, Eric Adams. They were married in that church in August, 1997.  Eric has formerly worked at a bank, and with computers. Two years ago he began his current position as a technical analyst for Evergy. If you attend the contemporary service in the Ministry Center, you may recognize him as he has recently begun working with the sound and worship team.
    God has blessed Mr. and Mrs. Adams with three children.  Their eldest, Jared, is 23 years old and currently interning with Caleb Mason in Gashland's college ministries.  He is also helping (thank you, Jared!) with the transition in the church office as our church seeks to employ a new office administration manager.  Jason is 20, and will complete his associates degree at Maple Woods, part of Metropolitan Community College, in May of this year.  Completing their family is 15 year old Audrey, a freshman at Oak Park High School, who plays flute in the band and participates in the tennis team.  Actually, completing the family is Zeppo, a 1 ½ year old Shih Tzu (more about his name later.)
    As their children came along, Rachael volunteered in several churches, working with various aspects of children's ministries, including during their 5 ½ years living in California.  With her education and experience in meetings and planning, as well as a history of assisting in her children's church activities, Mrs. Adams came well equipped to serve Gashland in her current capacity.
    Among Rachael's favorite scriptures, in addition to the Psalms, she is particularly drawn to Romans 8:38,39, "For I am convinced that neither death nor life, neither angels nor demons, neither the present nor the future, nor any powers, neither height nor depth, nor anything else in all creation, will be able to separate us from the love of God that is in Christ Jesus our Lord."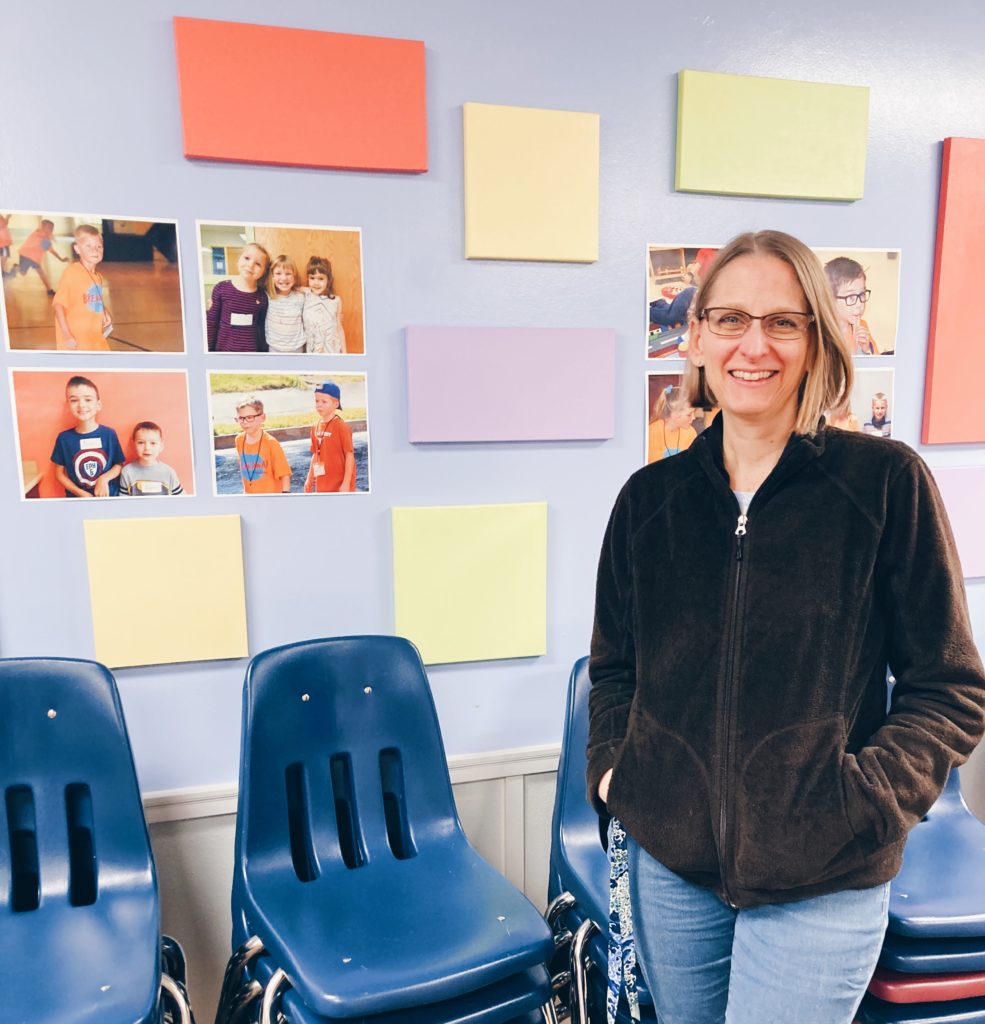 Rachael is an avid reader, especially non-fiction.  Or when the book in her hand is fiction, she is partial to the Jane Austen novels, "I read all of the time.  I do like cooking, learning about cooking, or anything.  I feel like I'm always learning.  I love traveling, but we don't get to do it very much anymore.  I like hiking, just not really strenuous hiking."  She loves the mountains in the summer, having become a hiking enthusiast when her parents lived in Colorado.  Definitely a "summer person" she loves the ocean as well, having enjoyed their years living in southern California in the San Fernando Valley, 30 minutes from the ocean.
    Her husband introduced her to the joys of older movies (her favorite is "Roman Holiday"), and now she shares this affinity with her daughter, Audrey.  The whole family loves old movies….and here is where their little dog's name ties in….Zeppo was named for one of the Marx Brothers.
    Were you enjoying the olympics last month?  Some people prefer winter games, some lean toward the summer competitions.  You might be surprised to learn that Rachael Adams spent her three years in junior high school as a member of a synchronized swimming team, and memorably attended the junior olympics!  She was able to do a lot of traveling, as there were only two teams in the area.  She started on the Missouri team, then moved to the JOCO team.  But all good things come to an end, and once she moved on to senior high school, part time job plans and other school activities required too much time to continue on what most surely would have been the road to the Summer Olympics!