April 2023 | Written by Maribeth Griessel
     How does the historic church, Barry Cumberland Presbyterian, tie into our current Gashland Evangelical Presbyterian Church? Was one building torn down because a new one was erected a few miles away? Well, not exactly. Hopefully the connection between these two churches can be clarified herein.
     First, though, allow us to picture and describe another of the stained glass windows in the sanctuary. The fourth window from the front, on the left/west side, is easily identified as an anchor, with a rope attached.  Anchors symbolized safety in the ancient world, a metaphor for hope and stability for believers facing the storms of life. In Hebrews 6:19, we read "We have this as a sure and steadfast anchor of the soul…." Another way of viewing it is as a sign of our salvation, being firmly anchored in our beliefs.
     Before moving into the 20th century, the time frame leading up to the birth of Gashland Presbyterian, let us share a few more interesting historical tidbits about this area from previous times. Barry was initially considered to be part of Clay County, prior to the establishment of Platte County, at which time Barry was included in this new county. Barry Road was originally known as the Military Road, as it had been built by soldiers from Fort Leavenworth. A journey from Liberty Landing to Barry along this busy road would take a full day, by oxen-pulled wagons, as opposed to perhaps 15 minutes with a few horsepower under the hood of a modern day "tin lizzie"…..kids, ask your grandparents what this is.  Barry was the only stagecoach stop between Fort Leavenworth and Liberty Landing.  During these early years, mail came from the Barry store twice a day to Gashland.
      The previously discussed Barry Cumberland Presbyterian Church, established in 1826, moved into its new building on Old Stagecoach Road in 1859. Through the next seven decades, this venerable old building fell into serious disrepair.  In 1931, the structure was condemned and razed, its bell silenced (currently this bell, now the Gashland church bell, is leased to The Brim wedding chapel, but hopefully will find its way home before too long). Sadly, most of the records of Barry Church were lost. Reportedly, the property, the structure and most of its contents were sold that same year. Some pews were purchased by the Harlem Church, North Kansas City, and some by John Wilson for a school building. Some items have been passed down from 19th century families, i.e., a clock which now graces a wall at the home of Larry and Dianna Laswell. It once belonged to the grandparents of Larry's late wife, Rose Ann Akin Laswell. Other furnishings simply disappeared. The original pulpit fortunately was saved and is currently in the hallway outside the GEPC chapel. Interestingly, it should be noted that despite the "death" of the Barry Cumberland Presbyterian Church building itself, the Presbytery did not officially dissolve Barry Presbyterian Church.
     Approximately 14 years later, ten Gashland families (including some from a Methodist group) wished to develop a new church.  The Presbytery of Kansas City was approached, the National Mission committee conducted a Church Interest Survey of the community, and then agreed to reactivate the (undissolved, remember) old Barry Presbyterian Church membership roll at a meeting held at First Presbyterian Church of Kansas City on June 5, 1945. The church was permitted to open new session and church record books.  A small membership of 15 still existed in the Barry Records.
       Simple worship services were soon being held in the private home of Mr. and Mrs. William H. Wyly at 83rd Street and Flager Road. In September 1945, the basement of the old Gashland School house on East 83rd Street was rented by the church. The last Sunday of September saw 47 new members added to the roll. The congregation instructed the trustees to purchase 2 1/4 acres of land at 81st Street and North Oak Street, then known as "south of F Street and east of Highway 169".  Purchase price for the land was $1,750.
      This congregation, in May of 1948, requested that the Presbytery allow the reactivated Barry Presbyterian Church to change its name to the Gashland Community Church and that they be permitted to incorporate.  Thus GEPC's predecessor was incorporated on August 11, 1948, under the leadership of James W. Teener. Dr. Teener determined to build a new church building on the property at 81st and North Oak.  Historically, at the end of World War II, both labor and building materials were difficult to obtain, but nevertheless construction began in the autumn of that year.     
     Mamie Samuel, who has been mentioned in previous "Windows On Our World" articles, owned a farm near Barry Road and Old Stage Coach Road. Mrs. Samuel is buried in the old Barry Cemetery, (located on part of the old Samuel farm) described in last month's issue of The Porch.  Native stone was quarried from this area for the building of the new Gashland Community Church.  It is reported that Mamie placed a record book from the old Barry Church in the cornerstone of the new church as it was being built in 1949.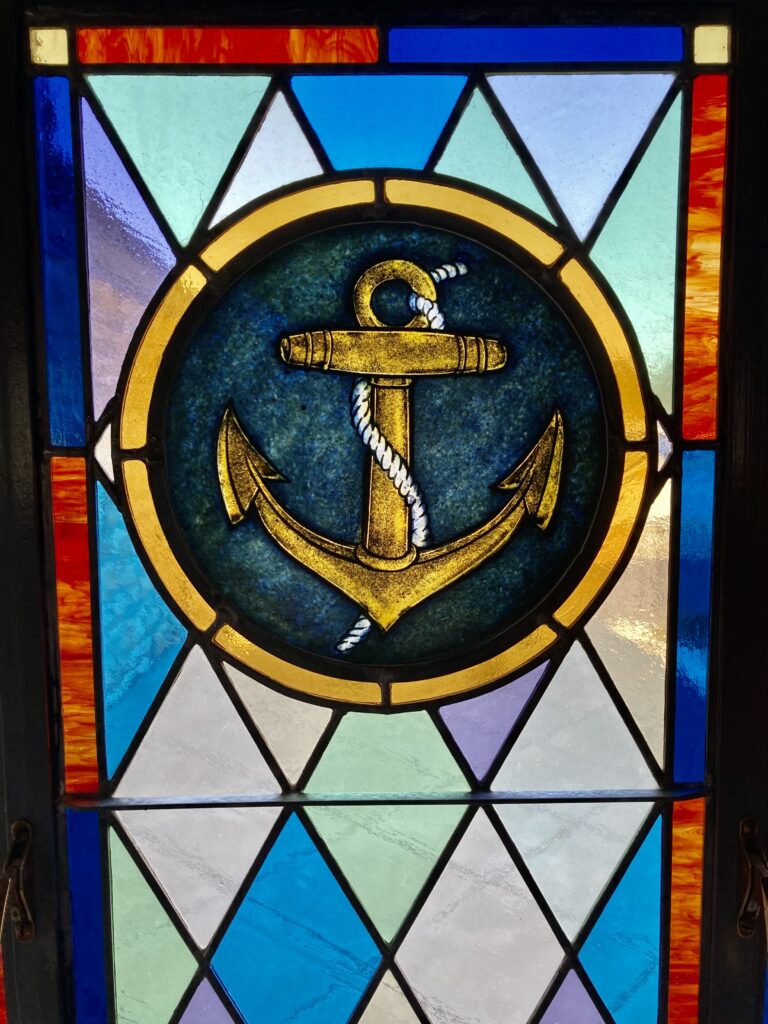 The August 25, 1949 issue of the North Kansas City Dispatch included an article about the construction of this highly anticipated new church, entitled "Minister, Community Pull Together Gashland's Dream Church." And a dream church it was to become.
      With the labor shortages, construction was carried out primarily by local residents, both church members and non-members. Men, as well as women, spent countless hours at the emerging church building, donating their time as well as their funding.  The plastering was donated by John Asbury, in memory of his mother Mrs. Nettie Asbury, noted last month to be well-known in the area as "Granny Asbury." The new sanctuary was designed in the Gothic style, built to accommodate seating for 125 worshipers. The basement, home to Gashland's current Fellowship Hall, was planned to provide space for all denominations and community organizations to use as a meeting place. This area was furnished with 200 steel chairs and eight tables which were donated to the new Gashland Community Church.
     And so, Gashland Community Church, the "Dream Church," was erected in 1949, and celebrated its first worship service on Christmas Day, Sunday, December 25, 1949.  Next month we will provide additional descriptions of the building and early days of the congregation.