Children's Ministry Update
December 2021 | Interview by Barb Ryczek, article by Ellie McGinty

"If someone is looking for a way to grow their faith, teaching others will cultivate growth like few other ways," said Rachael Adams during an interview with Barb Ryczek on the Children's Ministry here at Gashland. Rachael is the Children's Ministry Director, and has been serving in this position since August 2012.
Our Children's Ministry has been growing and going strong despite the effects that have carried over into this semester from COVID. There are several new families with kids that have started attending Gashland, and this has been encouraging not only to the staff and congregation, but to the individual ministries as well. This semester, the children of Gashland have been studying various parts of the Bible in all parts of the ministry, including the gospels, the book of Acts, and the book of Genesis. In Children's Church, which meets during the sermon time of the 11 o'clock service on Sundays, children are learning about Jesus by studying the gospels, using the Gospel Project curriculum. KidZone, our Wednesday night ministry, focuses more on worship and Scripture memory: "My husband Eric and I have been leading KidZone this year and it is definitely a highlight of the week. KidZone is designed to be a high energy night and the kids love it. We have been working on percussion skills during our worship time this semester. Just hearing the children memorize and recite Scripture is the best part of my job each week. It never ceases to amaze me how much they can understand and memorize!" commented Rachael. Barb then asked about Sunday School, the other weekly children's ministry meeting: "We have 3 classes going strong each week. Our youngest class, ages 4 through 1st grade, has been learning how God Gives Us Families, Friends, and the Church. In December, they will focus on Jesus through the gospels. Our two older classes (Grades 2/3 and 4/5) have been in Genesis and are moving to the New Testament in December to learn about Jesus in the gospels as well. We are so blessed with a team of five volunteers who love working with the children to teach them God's truths and model His love."
One of the other ways God has been working in this ministry has been through the different events held by Children's Ministry, like the Children's Choir, the KidZone store, and service party projects. "Children's Choir gives the children a special way to worship the Lord and allows them to be seen and heard by our congregation," said Rachael. This Christmas, the children will be singing "O Children Come" by Keith & Kristyn Getty on December 12th. The KidZone store "…is done twice a year in December and May. It is a fun way to celebrate the kids' work on their memory verses. They earn points for attending KidZone each week and even bringing a friend, but they receive points for each new verse recited as well as each time they review the verse up to 7 times. They are able to spend the points on fun gifts for themselves and others. We encourage them to purchase gifts for their families, too." Continuing on the theme of giving, the Children's Ministry also does service projects right around Christmas time. These projects  "…allow the children to become aware of the needs of others in our congregation. The project encourages the growth of multigenerational relationships within the body of Christ. The teachers lead the children in creating an age-appropriate Christmas craft and a card to go with this gift. Then the Mercy Team gives us a list of individuals or couples at Gashland who would be blessed by a gift from the children. These are people who may be shut-ins or going through a health or other life difficulty. The students and their families reach out to the members and schedule a time to deliver the gift. These gifts bring such joy and have developed relationships between the children and the recipients of the gifts," said Rachael. 
Lastly, Barb asked Rachael how she has seen God at work in both the regular and special events held by Children's Ministry: "I've seen God bringing more children and families regularly to hear God's Word taught. I have seen growth and maturity in our children. There have been good conversations and it is always exciting to see them thinking and trying to grasp the greatness of God and His plan to rescue us through His Son."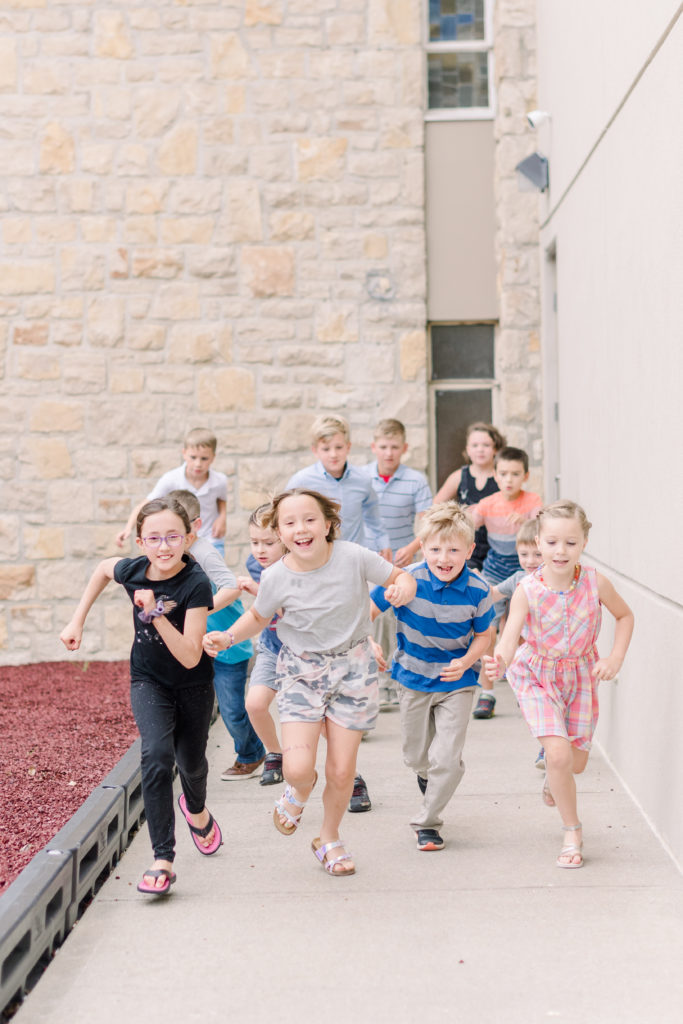 Volunteer Opportunities
Currently, we have opportunities to join our team and serve in our Children's Church Ministry, which involves teaching 2-3 times per quarter. Our curriculum is easy to use, providing step-by-step instructions, activities and what to say along the way. We also take donations for our KidZone store anytime of the year. There is a place to store the items until we need them.  Donations can be lightly used or new toys or gifts for others.
Prayer Requests
1. For the children to come to know Christ and for authentic lasting heart transformations.   
2. For the parents, that God would give them wisdom and guidance as they are the primary spiritual influence in the lives of their children.
3. For teachers and volunteers to be encouraged and have strength and wisdom as they prepare, serve and teach the children. 
4. For the Children's Ministry, for protection, provision and growth in the Lord.