October 2021 | Written by Maribeth Griessel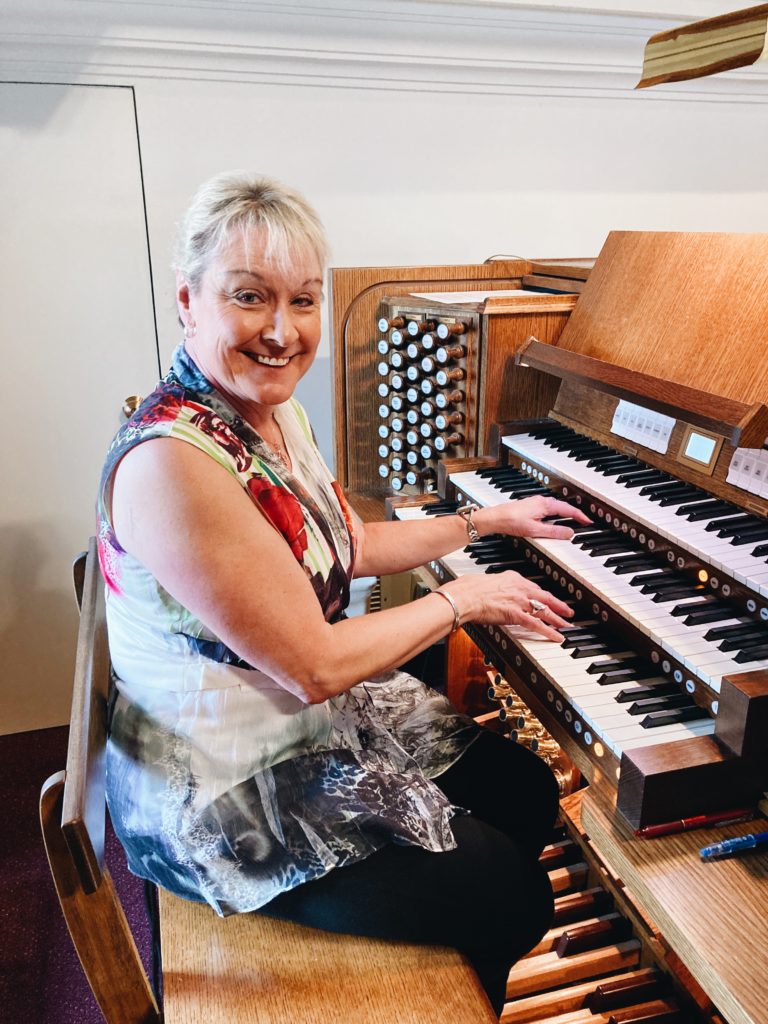 Most churches, large or small, of a variety of denominations, rightly boast of their music ministry.  And many of these houses of worship feel their musicians are among the best…of course this is as it should be.  However it is the rare congregation privileged to enjoy being ministered to from the organ or piano bench by someone of the caliber of Dr. Kelly Ker Hackleman.  From Bach to gospel, encompassing the most profound classical chords to intricate rhythms, Kelly can play it all.  She even plays her flute from time to time, writing/arranging/recording her own accompaniments!
Having moved with her husband, Marty, to the Kansas City area in the fall of 2012, Kelly was to meet with Gashland Worship Leader Bob Johnson the following April.  Though she had applied to another church as well, this first encounter with Bob "felt so right I didn't even look elsewhere."  And fortunately for all concerned, GEPC didn't either.
Born in Indianapolis, IN, her family moved to nearby Warsaw when she was five years old.  Kelly and her two younger sisters, Karen and Kristi, grew up in this Indiana town.  At age 16 she moved from Indiana to northern Michigan to complete her final two years of high school at the famous Interlochen Arts Academy.  She then attended the University of Cincinnati Conservatory of Music, graduating with a Bachelor of Music, and the New England Conservatory of Music in Boston, earning a master's degree, both in piano performance.  Then on to the University of Memphis (TN) to be awarded a doctorate degree in this same field. Her original plan in getting all of these degrees was to teach piano at a university.  After doing this for awhile she realized she didn't really want to teach keyboard.  "The important point is that church music is not a 'fallback' career for me, it's what I want and love!  I am right where God wants me to be, and I love serving God in the best possible way, in His house!"
Throughout her education Mrs. Hackleman has found history, and of course music history, to be her most interesting fields of study.  "That's why I love living in Kansas City and Hyde Park," she exclaimed, "because of the rich history in this area."
Kelly is a lifelong Presbyterian boasting strong Scottish genes….her great grandfather, Charles Ker, has his name on the cornerstone of 1st Presbyterian Church in Warsaw, IN, dated 1901.  Her mother, Ann Ker Hall, passed away in 2018, after an active musical life, having returned to school when her daughters were young, earning a degree in music education, then a master's in organ.  Kelly has two sons, Michael, age 29, who works at Lockheed Martin, and Danny, age 27, who builds cabinetry, and both sons were born and live in Montreal, Canada.  During her eight years living in Montreal, Kelly worked as a substitute member of the Montreal Symphony, playing piano, organ, celesta and harpsichord.  While there she met Marty, whom she married in 2001.
A busy lady indeed, Dr. Hackleman is an active organist, pianist, teacher, choral and bell choir director.  In addition to her mastery of the organ and piano at Gashland, she plays these instruments, directs both choir and bells, and prepares Power Point presentations at Shawnee Presbyterian Church for their 11:00 service.  She serves as an online professor of Music Appreciation at the UMKC Conservatory of Music, teaching the history of western music (as opposed to Asian).  Kelly maintains her own website, kellykerhackleman.com, on which her blog, "muse moments" can be accessed to view and listen to links to various pieces of music, complete with background stories and information.
Though it would seem her musical duties would keep her busy, Kelly finds time to pursue her interests in cooking (therefore in eating!), gardening and bicycling.  She used to dabble in photography as well. She and Marty thoroughly enjoy traveling to favorite locations such as Maui, Italy, and anywhere in the Rocky Mountains of the western United States and Canada.
As if her career were not enough to fill her life, she also works as a maid (do you do windows?)….that's right….cleaning at the Air B&B she and Marty own and operate!  Kelly loves gadgets of all kinds, primarily music and kitchen related.  "I spend way too much money on Amazon buying said gadgets!"
If you attend the 8:30 worship service, you are totally aware of this lady's amazing abilities.  If you are an 11:00 service regular, you might want to pop in to the early service from time to time to partake of the musical blessings she brings every week….and if 8:30 is simply too early, there's always the recorded service via website, at any time of day.  As a special treat, Kelly plans to "gift" GEPC with a piano recital on our newly restored Baldwin grand piano on Saturday afternoon, October 16th at 3:00.