Inasmuch: Relationships Team
December 2021 | Written by Maribeth Griessel
Dictionary.com defines stewardship as "the responsible overseeing and protection of something considered worth caring for and preserving."  In Matthew 25:40, Jesus gave us a precious promise, "…inasmuch as you have done it to one of the least of these, my brothers, you did it to me."  In coming issues of The Porch we will focus on various areas of stewardship, opportunities to serve within our church, knowing that our service to others is truly service to Jesus himself. 
Though we might tend to think of "stewardship" as overseeing what we have been given, ways to share it with others, as in giving of time and money to missions, stewardship may also apply to giving and sharing with those closest to us. The Relationships Team functions as a part of stewardship, but focuses on our church family.
Members of Gashland benefit from the work of this team, with its purpose centering around planning and overseeing social events. An example of the (at least) quarterly social activities normally offered is the Thanksgiving meal, which was held in mid-November. Earlier this fall many GEPC folk happily emerged from the Covid scourge, which had necessarily set aside most group activities, to enjoy a "pig roast" on the lawn and in the pavilion. Which was best, the delicious pulled pork sandwiches or the opportunity for much needed in-person fellowship?
Among Relationships activities are groups for all ages and interests, 20s and 30s group, food truck visits, outdoor movies, Christmas caroling, summer socials, game nights, and both men's and women's ministry events.  Tom Clapham sums up the importance, "Emphasizing and developing relationships within our church builds and strengthens community."
Though the normal Wednesday night Conversations meals/meetings have been put on hold since spring of 2020, this time of fellowship has been resumed in an abbreviated format, "Renewal". Attendees have been enjoying desserts, coffee, singing and worship. "Conversations and our other Wednesday night ministries are a wonderful way for our whole church body to come together and fellowship," explained Pastor Michael Morefield.
Hopefully in the not too distant future group gatherings can get back to normal.  Connie Sommer hopes to return to this format, "I headed up the Conversations cook team. Hospitality is one of my spiritual gifts and I feel that sharing a meal is a great way to fellowship." This ministry has been an excellent means of including people who may not be part of the 'here-whenever-the-doors-are-open' bunch. As Therese Blakley added, "We feel it is important that church members have events where they can get to know others and/or bring friends or casual attenders to enjoy fellowship and fun."
Did you notice how often the word "fellowship" appears in this article? By definition, this term means being together, sharing similar interests, companionship. Thus, the Relationships Team is definitely all about fellowship, hosting meals, small groups, studies, etc. Dallas Reeve explained, "I am the second elder on the Team, and chair of the men's ministry team."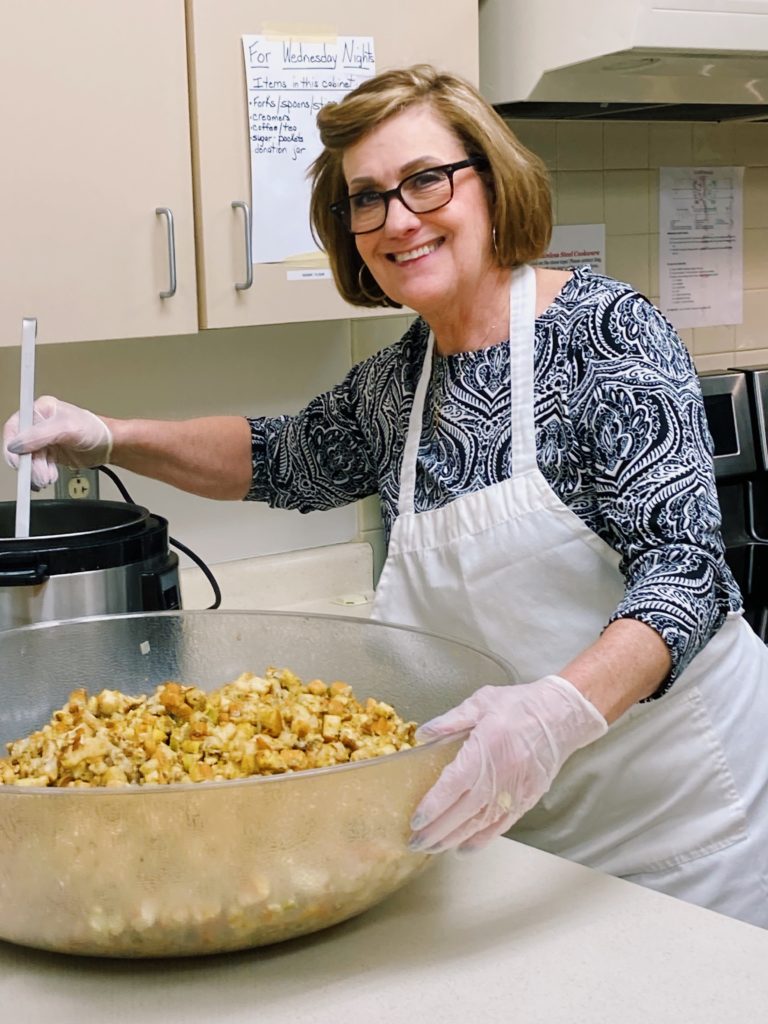 Under the oversight of Relationships, GEPC has recently been offering the Dave Ramsey money management course. So far there have been two classes, each of about 25 persons, one class in person and the other on Zoom. An additional class may be offered after the first of the year.
Brittany Johnston-Colle and Lacey Morefield work with the 20s and 30s group. Brittany and her husband host a community group at their home every other week for young people in a "no children" season of life.  Lacey hosts and orchestrates gatherings for all 20s and 30s at the church.  Brittany clarified, "In my experience, young people often fall through the cracks at church and it has been so refreshing to be part of a church that prioritizes making all ages feel welcome."  
Whether Relationships is planning various ministries, overseeing game nights, from time to time updating the church directory, or any of its other many activities, this Team continues to adhere to the "INASMUCH" directive….as Jesus said, "Inasmuch as you have done it to one of the least of these, you have done it to me."