A Cord of Three Strands:
Aaron & Kelsie Kleinmeyer
March 2022 | Written by Maribeth Griessel
     We recently added Susanne and Bob Drayer to a list of couples who just belong together. Other pairs we automatically connect are Adam and Eve, and Abraham and Sarah. This month, in keeping with Ecclesiastes 4:12, a "cord of three strands is not quickly broken," we will include Aaron and Kelsie Kleinmeyer.
     Aaron Robert Kleinmeyer was born in KCMO and grew up near Worlds of Fun, graduating from Winnetonka High School. After attending Maple Woods Community College for two years, he earned an undergraduate degree from MU in Elementary Education, followed by a master's in Educational Leadership from Park University. During college he worked as a mechanic for big box stores, like Firestone and Goodyear. His primary occupation since has been that for which he prepared, as a teacher, in middle school industrial technology/shop classes, and also with elementary age children.
     When Aaron was in 8th grade his mother learned about the middle school program at Gashland, where his younger brother and sister had attended preschool. He completed the confirmation class and became a member. His parents, Bob and Elaina, live in Kansas City, where Elaina works at Target and Bob at a car dealership. Siblings Austin and Angela both work for Cerner. And importantly, Aaron met a certain young lady, Miss Kelsie Jo Blakley, during his early years at Gashland. The two of them worked together with the church youth group while they were in college. 
     Though Kelsie was also born in Kansas City, she grew up in Platte City, graduating from Platte County High School. She then proceeded to MU, earning her undergrad degree in Secondary Education in English, followed by a master's in Gifted Education.  Her parents, Mark and Therese Blakley, long time members of GEPC, continue to live in Platte City.  They are "semi" retired, Therese from Hallmark and Mark from teaching in St. Joseph and Liberty. She does contract work for her former employer from home, and he teaches a couple of classes a day at Platte County HS. Interestingly, before retiring from Liberty High, Mark and daughter, Kelsie, actually taught at the same school for a couple of years.  Brother Scott and his wife, Liz, also attend Gashland, and live in Parkville, while he teaches at Platte City High School and she manages school counseling curriculums.  Brother Kirk, an architect, and his wife Anna, a nurse, live in Seattle, WA.
     If there are any young men of marriageable age reading this right now, Aaron could give pointers on how to pop the question in amazing style!  Kelsie reminisces that Aaron worked at Gashland as the "night person".  One night they had a date, but he said he needed to stop by the church to unlock it.  "Why don't you come in with me?" he innocently invited, when she was going to wait in the car.  Upon entering the sanctuary, Kelsie found her mother, Aaron's sister and several friends awaiting her arrival, holding roses and small canvases her boyfriend had painted.  Each woman was holding one of these small signs, each containing a verse from I Corinthians 13, ah, yes, "The Love Chapter".  Aaron went up onto the platform, while Kelsie was beginning to figure out where this was leading!  Following this oh-so-romantic proposal, they went out to dinner with friends and family in Zona Rosa.  In the years since their June 15, 2013 wedding, the Lord has blessed them with Eli Robert, a preschooler who has just turned five and Addie Jo, who entered her "two's" (no, not terrible!) in January.
Though Mr. and Mrs. Kleinmeyer have both been school teachers, have helped with worship teams in the past (with Kelsie continuing to do so from time to time), and Aaron has recently completed serving six years as an elder….all of this is only the tip of their career iceberg!  Kelsie is a part time travel agent, loves planning trips; she also enjoys running half marathons, having done five in one year in the past. Her husband earned the rank of Eagle Scout in his younger years, and, as a former mechanic, authored a book, "Cars Will Keep You Poor", as well as working at other jobs wherever he felt the Lord was leading him.  Having taught English for nine years, Kelsie loves reading, whenever she can find the time, favoring non-fiction, and topics relating to emotions.  On the other hand, Aaron's literary tastes run towards "Man of LaMancha", books by C.S. Lewis and John Piper, and "Dream Big" by Bob Goff.  They enjoy traveling, and in the past (pre-children) have visited Europe four times, as well as Mexico.
Surprisingly, the Kleinmeyers are business partners with several people around the country, "We help businesses grow.  We have a handful of clients that we have met with, coached, and written radio ads for over the past couple of years," clarified Aaron.  "Though we don't have a background in marketing, an encounter with strangers who gifted us with $7500 toward our hopes for establishing a wedding chapel was the start of this partnership," he continued.  
A favorite scripture is found in John 2 where Jesus turns the water into wine.  "Basically, we love that story because Jesus tells the servant boys to fill up six vats with water, says that when they filled the vats up they filled them up to the brim.  That is so remarkable, as these vats could hold anywhere from 20-30 gallons each!"  Hence the story behind the name of the wedding chapel they sought to open, "The Brim".
Mr. and Mrs. Kleinmeyer's dream for this venue came to fruition on June 15, 2021.  Since opening last summer 120 weddings have been held at their Wedding Chapel, The Brim, located near the airport at 14150 NW Walker Road, KCMO.   And they have 125 additional services planned for this year, thus far.  The church bell from Gashland is on loan to The Brim, and following each wedding the newly married couple is allowed to ring it, pulling the 30 foot rope that dangles from it.
"The Brim isn't a Christian facility per se, as the Kleinmeyers don't feel that would meet the mission the Lord has called them to.  Rather than "entertaining Christians", they believe their goal is to "entertain souls, people who need somebody to be good to them, show them what it means to be treated well and taken care of."  There are no prerequisites to scheduling a wedding at The Brim.  Aaron and Kelsie have written a book, "Veraison" (This is the process that a grape has to go through when it matures.  Also there is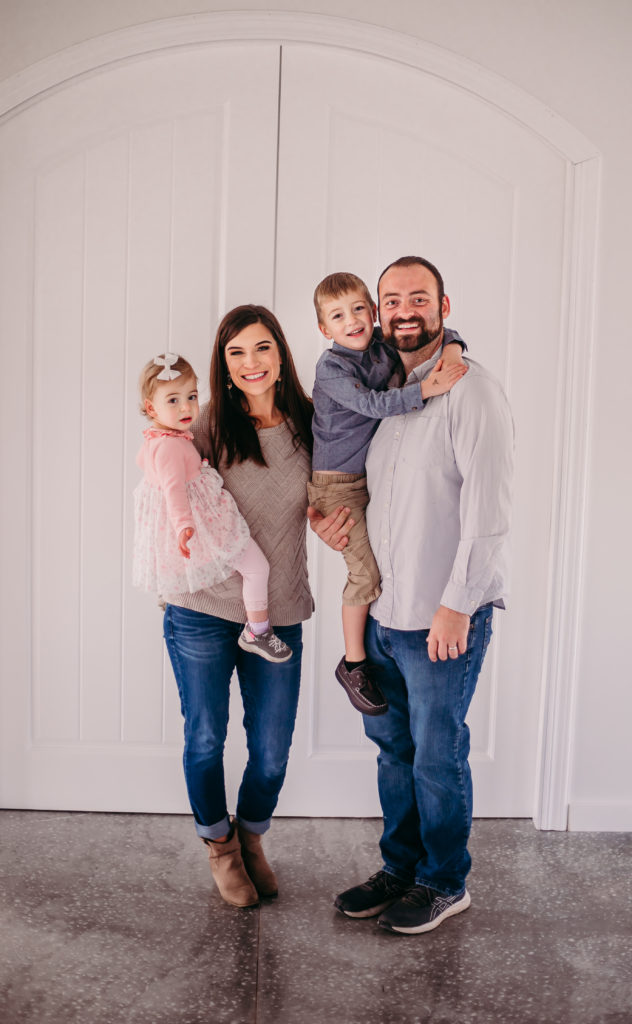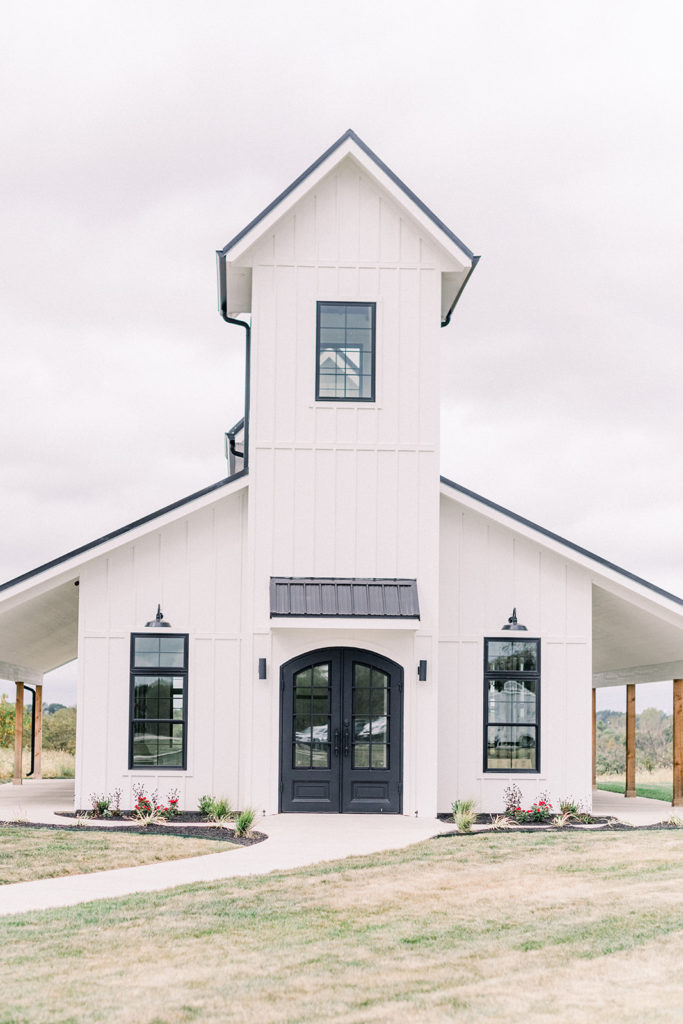 a vineyard on the property, so they will be making wine.)  "Veraison"  is a pre-marital guide for couples to go through together.  When a man and woman sign up for their wedding they are given one copy of this book (can purchase additional), and are offered the option to sign up for a workshop class with other couples.  "This is a secular class, and is not required, but we do encourage them to talk about things that are important before marrying."  If they do not have a church background, it's quite probable no one is offering this to them.
Though they work together in managing and growing their enterprise, each of them handles their own specialties as well.  Kelsie is in charge of the wedding bookings, the website, social media, and face to face meetings with the brides and grooms.  Aaron does more of the property management, setting up tables and chairs, etc.  "Together we dream of where we're going, we bounce a lot off of each other," they explain.  "We believe that Jesus wants to do remarkable things for couples' marriages.  He's going to do great things!  Basically a lot of people assume that this is a big religious thing, but we are on a mission…when you're on a mission you go where the people are."  And how better to accomplish this than as a Cord of Three Strands?